In-ground LED Up-Lighting Lighting/ Spotlighting
Utilising spot lights in the ground is a strategic concept, but when done right has high effectiveness. Its effectiveness differentiates between safety aspects and design qualities.
Why?
In-ground Lighting can be useful for safety reasons as well as aesthetic feature; this technique is effective to illuminate areas of constant use (surrounding pools, within steps or following pathways), without being at all in the way due to the nature of their design. Alternatively, these spotlights have the ability to present aspects of style in a way like no other – whether it is to up-light a feature wall, edge of decking, pots or the edge of garden beds; generally, their versatility stretches to almost any fixed area your yard has to offer.
How?
In-ground Lights get fixed onto a flat area flush with the surface. They're utilised just as much for a safety measure as they are an attractive addition to the outdoors. The lights come in either blue or warm white, and typically look best when stretched geometrically in a line over a stretch of at least 3 lights – although everyone has different taste.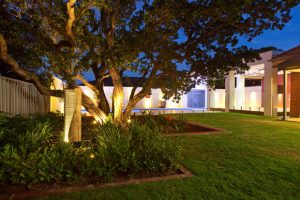 LED Up-lighting Trees or Plants
Up-lighting the flora within your yard can accentuate the beauty and definition of your garden without really doing too much!
Why?
The wonderful thing about this technique is that it's applicable in almost any backyard. There are multiple opportunities and variations to this technique; whether it is a single feature tree, multiple scattered plants or illuminating the symmetry in a row of plants or a hedge – it's always possible and more importantly highly effective.
How?
Creating this technique is rather simple but there are a few different ways. The first way is up-lighting them from a Spike Light in the ground – The LED will withstand any weather and simply be posted in the ground allowing you to manoeuvre the light to any feature you want to illuminate. The second is by fixing a light to a fixed surface in the direction of the tree or plants you wish illuminated, this procedure can utilise either Wall or Bullet Lights.